STARIO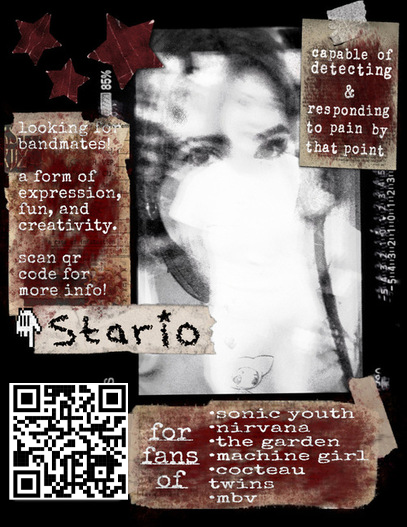 stario is looking for bandmates! (atx based)
"stario"--a play on the word stereo--is a music project influenced by grunge, shoegaze, punk, and electronic music, and aims to blend those genres even further to create something hard hitting and fun to listen to; something to start a mosh pit in your bedroom to <3 :).
influences:
sonic youth
nirvana
my bloody valentine
machine girl
cocteau twins
the garden
currently looking for:
1 guitarist
1 bassist
1 drummer
above are snippets for a few song ideas put together in garageband. volume warning fr especially on that last track...
THESE ARE NOT FINISHED PRODUCTS
heres a soundcloud link
dm on ig for more info, questions, or inquiries @stariocast! 👀